York is a four-hour drive or a two-hour train ride from London. It is England's most fascinating historic city and its history can be traced back to Constantine the Great, the Roman Emperor. This walled city is filled with narrow alleyways, pedestrian cobblestone walkways, historic buildings, ancient ruins and old churches – one of which is the iconic York Minster.
Located in Yorkshire, England's largest county, York is also the hub for visitors to take day trips to Yorkshire's villages, market towns, and national parks. Leeds Bradford International Airport (LBA) is the closest airport to York and is only 33 miles from the York city center.
Before you head over to the villages, market towns, and national parks, here are 5 things you must do when in York, England:
1. Visit York Minster
For over a thousand years York Minster has been attracting visitors, dignitaries and religious leaders from all over the world. York Minster is the largest gothic church in England and is one of the world's most famous cathedrals.
Its history can be traced back to Princess Ethelburga and King Edwin of Northumbria in 627 when a wooden church was built for the king's baptism. A stone church replaced the wooden church soon after his baptism. Major expansion and construction began in 1216 and it took over 250 years to build the cathedral we see today.
Some of the important things not to miss when in York Minster include the medieval stained glass windows, undercroft, Rose Window and Five Sisters Window, and the Chapter House. You'll also want to climb the Central Tower (if you are not claustrophobic), the highest point in York for the view, visit the Nave, and the King's Screen. Plus don't forget to see the organ and quire.
Information: York Minster
2. Walk along Shambles and the Cobblestone Streets of York
Shambles is a well-preserved medieval street in York. It is the oldest street in York and in its former days was an open air meat market. The old butcher shops' windows, shelves, and hooks for displaying meat are still visible in the old shop buildings. These shops are now occupied by boutiques, cafes, restaurants and souvenir stores.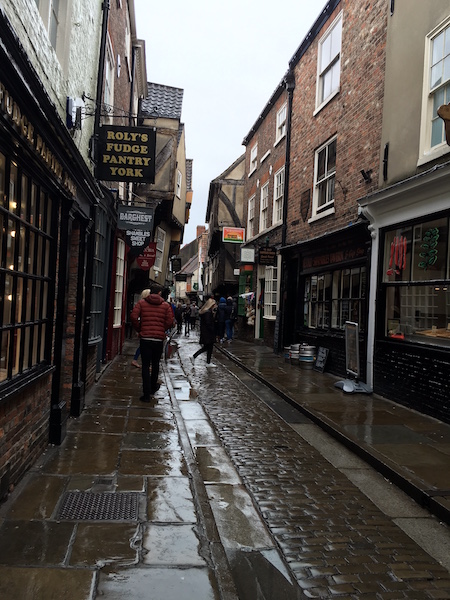 Stop by the Shrine to Margaret Clitherow in the middle of the Shambles. She was a butcher's wife who was pressed to death in 1586 for hiding Jesuit priests in her house.
Stonegate and Petergate were streets made in the Roman times. When walking these streets, check out the statues on top of building corners, like the blue statue of Minerva on High Petergate and the horned black beard red devil on Stonegate.
3. Explore the National Railway Museum
Known as the World's Greatest Railway Museum and rightfully so, the National Railway Museum is home to the world's finest collection of royal carriages, steam and diesel engines, a Japanese bullet train and over a million railway objects.
It is free to visit the museum. The museum's road train is available for £3 per way from York Minster to the museum. The National Railway Museum is only 600 yards from the York railway station.
Information: National Railway Museum
4. Take a walking tour around the walls
The best way to learn about York and its ancient walls is by taking a walking tour with a local guide. Discover York's history as you walk through the medieval streets and along the city walls. Learn how the Romans, Anglo-Saxons, Vikings and Normans built the city to what it is today.
Most walking tours will take you through the ancient city gates and towers (known as bars) like Micklegate Bar and Walmgate Bar. Some tours also cover Multangular Tower where the Roman fortress is located, Goodramgate and Coney Street where the Viking York is located, Merchant Adventurers' Hall, Clifford's Tower, the medieval streets and more.
Here is a list of walking tour companies:
White Rose York Tours
Exploring York
Yorkwalk
5. Try Yorkshire Pudding and Afternoon tea
Yorkshire pudding is the best-known food in York. Go for a Sunday roast where roast beef and Yorkshire pudding are served with lots of gravy. Try it at Hole In The Wall York on High Petergate.
Afternoon tea at Bettys Stonegate is a must for anyone who wants to experience the Yorkshire afternoon tea. The teahouse is located on Stonegate, the medieval street. It serves a variety of bread and cakes and an extensive range of teas and coffee.
Bettys does not take reservations.
Information: Bettys Stonegate
Have you been to York? What were your favorite things to do there? Let us know.