Ever heard of sandboarding? Sandboarding is similar to snowboarding – both sports use a board. A sandboard is a long narrow board used for riding down sand dunes, as defined by dictionary.com.
Sandboarding is popular in Latin America, particularly, in the coastal areas of Nicaragua, south-east Brazil and the desert areas of Peru, Bolivia, and Chile. Here we've picked out 5 places for sandboarding:
1. Huacachina Peru
Huacachina is a desert oasis with towering sand dunes located just outside Ica, 191 miles south of Lima. It's the ultimate place for a thrilling dune buggy and sandboard adventure. Get hair-raising rides up and down the steep ridges at the mercy of the buggy driver.
In Huacachina, sandboarding is done with your stomach on the sandboard and your legs functioning as brakes. Start with riding down small dunes and after you've had practice, usually by the fourth round, you'll have a chance to sandboard on one of the highest dunes in the desert. Some of these dunes are over 1,600 feet.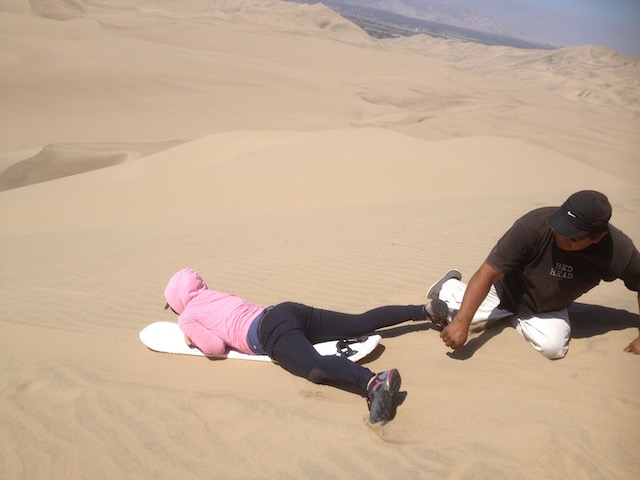 Note: It is not advisable to stand or sit on the sandboard when sandboarding in Huacachina.
2. San Pedro de Atacama Chile
To get to San Pedro de Atacama desert, take the two-hour flight from Santiago, the capital city of Chile to Calama, a mining town just a one and a half hour drive from San Pedro.
Beyond the ancient artifacts and rich local cultures, San Pedro de Atacama is also famous for its active geysers, salt flats, and giant sand dunes. San Pedro de Atacama is the world's driest desert.
Most sandboarding tours include transportation to the base of Death Valley (Valle del la Muerte), sandboarding, and a short instruction on how to sandboard. Then you walk up the dune and join in the fun with the rest of the members of your tour group and slide down the dunes.
Information: Visit Chile
3. Florianopolis Brazil
Florianopolis is located in south-east Brazil. The flight from Sao Paulo is an hour and from Rio de Janeiro is one hour 26 minutes. These are the two major gateways to Florianopolis if you are flying from the United States or Europe.
Florianopolis is a sprawling city, spanning across the Santa Catarina island and in the mainland of Brazil. Besides surfing, sunbathing, boating and hiking, sandboarding is another activity to look forward to when visiting Florianopolis.
Sandboarding is available in Ingreses and Siriu Beach in Garopaba on the mainland. The most popular and easiest to get to is the sand dunes of Joaquina beach.
You can hire a cab or private driver or take the public buses to Joaquina beach. Then rent the sandboard from one of the vendors at the side of the road (across the street from the sand dunes). Tour guides are not necessary when sandboarding in Joaquina.
This is the best place for beginners.
4. Cerro Negro Volcano Nicaragua
Nicaragua offers a different setting for sandboarding. You'll sandboard on black sand, thus the name Cerro Negro or Black Hill.
Sandboarding tours are available from Managua, the capital city of Nicaragua. It takes about a one and a half hour drive from Managua to Cerro Negro Volcano. Tours include transportation from your hotel, short sandboarding instruction and safety information, entrance fee, a 90-minute hike up (a difficult one and a half hour hike up to about 1,600 feet), sandboard, and a guide.
5. Lomas de Arena Park Bolivia
About one hour drive from Santa Cruz is Lomas de Arena Park, Bolivia's sandboarding destination. It is sandboarding's best kept secret destination in Latin America.
To get there, you'll need to follow a guided tour on a 4WD vehicle from Santa Cruz. Enjoy the lagoons, wildlife, white sand and of course, sandboarding on the white sand dunes.
Santa Cruz is located in the lowland, east of the Andes, and is a one hour 11 minute flight from La Paz. It is Bolivia's largest city and the biggest commercial hub.
Tips for sandboarding:
Cover your camera with a plastic bag or a waterproof bag to keep sand out.
Go with a trained tour guide (except at Joaquina beach in Florianopolis.)
Always wax your sandboard before sandboarding.
Bring water to prevent dehydration.
Wear hiking shoes.