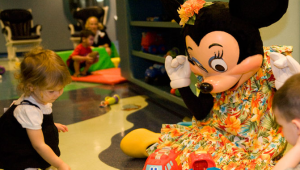 This is a comprehensive and detailed trip review that I hope will be an organized resource for others. Before you spend your valuable time reading this entire post, I want to be clear who would benefit from this information. The ideal reader is a parent with a young child or children (under 3 years old) who is willing to spend money to reduce stress. I won't be describing the cheapest budget solution, and many of our decisions were focused on optimizing the kid's experience, which ended up being the best moments of the trip that made all the exhaustion worth it.
With that said, here's the full breakdown of what we did and how we did it.
The idea originally came from our friends. They had an 11-month-old daughter, and they were planning a Disney cruise in the Caribbean. They asked us to join them, and we decided to go for it. Our son would be 15-months-old at the time of travel.
What's the best cruise line for kids?
This one is obvious. Do a quick search online and you'll find pretty universal consensus that Disney has the most optimized cruises for kids. Our experience confirmed this, as we've been on other cruises lines like Royal Caribbean and Carnival, and Disney really excels at the little details for children. Some quick examples:
– Nemo's Reef is a splash area with low streams of water that a toddler can play in even if they're not old enough to go into a regular pool. Bonus: The water is heated and the area is covered from the sun.
– The Animator's Palate is an amazing dining room that doesn't even exist in the Disney parks. The walls literally come to life with animations that capture the attention of kids so the parents can actually enjoy their meal.
– The Disney cruise stateroom is almost twice the square footage of the normal room on Royal Caribbean (almost 300 sq ft compared to 180 sq ft). Bonus: There is a curtain that divides the room in half so the child can sleep in the Pack 'n Play on one side while you move around the other side.
Does my child need a passport for a cruise?
Yes, both parents need to bring a copy of both of your driver's licenses front and back, you need a check to pay, and you need to fill out a form in black. You also need to bring the child's original birth certificate. You can go to the post office and pay to expedite the application. More information is available at the travel.state.gov website.
When should we start the online check-in for a Disney cruise?
I recommend you do it as early as possible. Concierge guests can start 120 days before the cruise (about 4 months ahead!) and we waited until less than 60 days and found that a lot of things were booked already. Specifically, I highly recommend trying to get a family cabana at Castaway Cay. There are only 20 cabanas and they get booked quickly, so we were unable to get one. I kept checking back and even asked on the ship a few times, but nothing opened up.
We also found that the spa was mostly booked by the time we did the online check-in, however it turns out that once you're on the ship, you can go to the Senses Spa and ask at the front desk, and we found that there were openings for massages. Halfway through the trip, the parenting stress was getting to me and I did a deep tissue massage and it was totally worth it.
We booked the actual trip itself through CostCo because our friends are members. Note that Disney generally doesn't offer discounts on cruises through travel agents. We've used CruiseCompete in the past for Royal Caribbean and gotten a cheaper price plus onboard credits, but there was no deal on Disney. CostCo did offer a $310 gift card that would be sent about 3 weeks after the cruise, so that's why we ended up booking through CostCo Travel. In general though, I would probably just book directly through Disney for convenience.
When we booked, we requested high chairs for the dining table, and a Pack 'n Play for each stateroom. They provided a Graco Pack 'n Play as requested, but for some reason they only had 1 high chair at the dining table. They quickly brought us another, but in one of the dining rooms we had a long bench on one side so the high chair had to put on the end. It wasn't a real problem in the end, but it's another reason I would suggest booking directly through Disney to clarify any details and ask questions about baby food and other details ahead of time. As others have written, Disney will puree food for the baby, and they are really good at taking notes on what each kid likes and preparing the right food for the remaining dinners on the trip.
What's the best way to fly with a baby?
First, everyone generally agrees that you should always buy a seat on the plane for your child if you can afford it. If you're like me and you want to spend money to reduce stress, this is a no-brainer.
Next, you need a car seat to use on the plane. We found the Lilly Gold Sit 'n Stroll which is a combination car seat/stroller. We got more than a dozen comments from fellow cruisers about the stroller. Surprisingly, we didn't see anyone else with it on the ship or in the airports. It's an obvious idea, saving you from having to gate check an extra stroller.
The Sit 'n Stroll worked well for us. The wheels rolled smoothly, and we used it around the cruise ship and on the ports, as well as through the airports and on the plane itself. As most people have said, you do need to practice with it ahead of time to get used to the mechanism, and it's not light at all. With a kid in it, it's actually very heavy so we found that if you get your spouse to help hold the other side, it's much easier to expand and collapse the wheels.
Most people recommend buying the mesh bag, so we did that and we also used the sun shade. The plastic pegs from the sun shade are very difficult to remove from the stroller once they're in, so I actually used pliers to loosen them before our trip. I also found that the stroller would roll past first class on United but not down the aisle in the economy section, so I had to lift it over the seats.
Tips on flying with a baby
The following tips assume you are not trying to save money. For first time parents bringing their kid on the first plane ride, my priority was to spend money to minimize the chance of problems.
I debated back and forth for a long time on whether to book business class seats on United. The price was only slightly more than what I paid for Economy Plus. In the end, I decided that I would be more stressed by annoying the other business passengers. People's opinions online are pretty mixed on this issue, so it's a personal decision. But Economy Plus actually worked well for us, with a few tweaks. There was enough leg room that our child couldn't kick the seat in front of him. We weren't in the back of the plane, which I originally thought might be better if we had a screaming baby, but of course it's much harder to get off the plane after you land.
One detail I forgot is that we were flying into Orlando. The plane was full of kids, and we were literally surrounded by other parents and children. So it really wasn't a big deal if our child made noise or complained. Luckily he didn't have any problems with the change in pressure during take-off or landing, which is a common thing where parents advise giving milk or a pacifier to help with the pressure.
Do I get Premier Access with the United Club Card if I don't book using the card?
Yes, I was pleasantly surprised to see that this was true even though I called both Chase and United beforehand and they couldn't confirm it on the phone. The customer service was rather poor, but the benefits were worth it.
Again, I'm not going to discuss the value of paying the fees, since that's covered by a lot of other blogs. I'm assuming you are willing to pay extra for convenience. In our case, even though I booked the flights using my other Chase card, having the United MileagePlus Club Card meant we got Premier Access on our boarding passes. That gave us access to much faster security lines and we got two free checked bags. The Orlando airport is especially crazy at certain times. I did notice that the CLEAR line was pretty much empty all the time, so if I flew out of MCO a lot, I would definitely consider that service.
The United Club Card also gave us access to the airport lounges. The United Club at the Orlando airport is actually pretty nice, with a kids room in the back that had cartoons on and a low table and chairs. There wasn't any family restroom in the club though.
The other benefit of the Club Card was getting boarding group 3, which is right after the first class and high mileage travelers, but before the masses. That's important because it's much easier to lift the car seat overhead if you can board before the plane seats get filled. We asked for a seat belt extension and buckling the car seat was fairly easy.
One other note about using the car seat in actual cars, we used the seat belt method rather than the latch system, and had it forward facing, so we used the top tether anchor. Basically all new cars have the ratcheting seat belts and a top anchor, so it was pretty easy.
What's the best hotel before a Disney cruise?
For us, we chose the Hyatt Regency at the Orlando Airport. Others had recommended this, because after a long day of travel, it's nice to get into the hotel as soon as possible. For our United flight, we had to take the airport tram over to the main terminal first, but the Orlando airport is nice in that it has a food court and lots of shops. The Hyatt also offers a day room if you get back from the cruise and you have a long wait until your flight.
I complained about this issue previously with the New Orleans Marriott, but the Orlando Airport Hyatt did the exact same thing. They sell you a suite, and in our case we paid to upgrade to a VIP suite, but the "suite" is really just two hotel rooms with connecting rooms. It just doesn't feel like a real suite, unlike the Bloomington Airport Holiday Inn which had nice glass doors separating the bedroom from the living area.
Just like the Marriott, Hyatt didn't bother to open the connecting doors before our arrival, which I really think is a simple detail that could be handled and would give a much better first impression to the guest. Hyatt had a fancy kiosk for check-in, but it wasn't smart enough to give me 2 keys for the 2 rooms, so just like in New Orleans, I had to call the front desk and ask them to give me the second key, otherwise I couldn't even get into the bedroom.
Overall, the location of the Hyatt in the airport is very convenient, but I wouldn't bother with a suite there.
Should I take a private car to the port terminal?
Disney offers ground transportation, but we read about Happy Limo online and decided to try it. We ran into a couple issues, but the customer service was fairly good overall and they were friendly. The cruise port terminal is about an hour away from the Orlando airport, so you have to figure out transportation. On the way to the port, I reserved an SUV and they picked us up in a conversion van towing a trailer for the luggage. That's an equivalent value in terms of price, but I think an SUV would have been a more comfortable ride.
What's the latest time to disembark from a Disney cruise?
I couldn't find an exact answer to this online. You have to place your checked luggage outside your stateroom by 10:30pm the previous night. They'll take it down to the port terminal where you can pick it up after you get off the ship. On the morning of disembarkation, they ask you to be out of your stateroom by 9am. They serve a seated breakfast on the last morning, but actually we found that the Cabanas buffet was open and serving breakfast. You don't have to be off the ship until closer to 11am. They ask you to wait on Deck 4 if you're not exiting the ship right away. So the ideal plan would be this:
– Assuming you want to disembark as late as possible, you let your kid sleep in.
– One person goes up to Cabanas and gets a plate of food to bring back to the room.
– You finish packing your remaining carry-on bags and exit the stateroom at 9am.
– You go to Deck 4 and find a seat to relax while watching the long lines exiting the lobby on Deck 3.
– When the lines get much smaller, it will be around 10:30am or so, and you make your way casually off the ship.
– You pick up your checked luggage and you'll still have to wait in the customs line.
– The line splits at a certain point, so look and estimate which line is faster.
– Once you get past customs, you go outside and meet your driver.
In our case, we thought we had to be off the ship by 9am, so I scheduled the Happy Limo driver for 9am. The lines to exit the ship were very long at 9am, so we decided to wait on the ship, but that meant we didn't get off until around 10:30am. I had called the driver already to let them know, and Happy Limo was nice enough to send a different driver much later without charging me extra. However, since we no longer had a scheduled time, we ended up waiting for a long time outside until the new driver arrived (who was actually bringing another family to board the next cruise). The upside was that we got a nice limo, which was a much more comfortable ride (and even the limos have the top tether anchor for a car seat).
How much do you pack to travel with kids?
Parents know you end up bringing a lot more when you have kids. There are toys and blankets and books and baby food and formula and endless other supplies. We checked one large 27″ bag that was close to the 50 lb limit, and one smaller 22″ bag that was around 40 lbs. Then we carried on a diaper bag, another shoulder bag, a backpack, and the car seat/stroller.
One service we decided to use was Babies Travel Lite. For a stressed parent, it's worth it, but the shipping charges are very high. The nice thing is that the box was already in our stateroom before we even entered the room. I called Disney ahead of time to confirm that their warehouse had the box and there were no issues about the food or water in it. Some people online talk about limitations on weight or contents if you ship stuff yourself, but Babies Travel Lite is a partner of Disney so there's no problem with anything you buy through them. They ship by ground if it's early enough, but they don't sell any perishable items so it shouldn't be a problem to have it sit in the warehouse. Overall, it was convenient to have a lot of supplies shipped.
Summary
In the end, the trip was a success. It was very different than past trips which were much more relaxing and slower paced. Traveling with a kid is stressful, but seeing him react to the Disney characters and shows made it all worth it. Good luck if you're planning your own trip. Plan smart and hope for the best!