Three things set Louisville apart from many destinations in the United States: (1) horse racing, (2) bourbon, and (3) baseball bats. This underrated destination is 422 miles north of Atlanta, 607 miles southwest of Washington DC and only 588 miles from Toronto, Canada.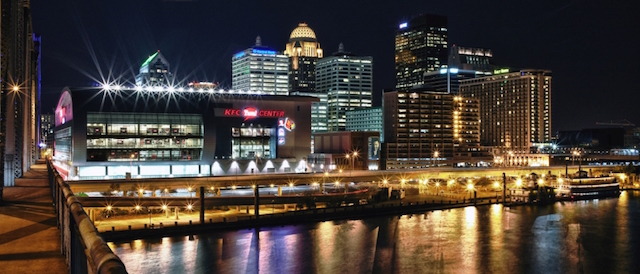 Every first Saturday in May, Louisville's Kentucky Derby attracts over 155,000 visitors. The Kentucky Derby is one of the world's most prestigious horse races and is the longest continually held sporting event in America.
Have you been to Louisville? Here is a list of 5 things to do in Louisville, KY:
1. Kentucky Derby Museum
The Kentucky Derby Museum is located in front of the historic Churchill Downs (the Kentucky Derby venue).
Learn about the stages of a Thoroughbred's life, from birth to the first Saturday in May. Discover the history of the Kentucky Derby from 1875 to the present at the only museum of its kind in the United States.
A general admission ticket to the museum includes a 30-minute historic walking tour of Churchill Downs, a showing of "The Greatest Race" 360-degree high-definition film and entrance to the museum's two levels of permanent and special exhibits.
Visitors can purchase additional tours like the Derby Week Tour (prices and times vary), the Behind-the-scenes Walking Tour, the Twilight Tour, the Barn and Backside Van Tour and the Horses and Haunts Tour.
Information: Kentucky Derby Museum
2. Louisville Slugger Museum
In front of the Louisville Slugger Museum is the world's biggest baseball bat. Standing at 120 feet tall, it has a nine-foot diameter at the base, three-foot-six-inch diameter at the handle and a six-foot-six-inch diameter knob, weighing 68,000 pounds with hollow interior.
The Louisville Slugger is a family-owned company that has been making the world-famous Louisville Slugger baseball bats since 1884. Guided factory tours with bat making demonstrations are available daily.
Information: Louisville Slugger Museum admission fees and hours
3. Kentucky Bourbon Trail
Visit Kentucky's nine historic distilleries, Bulleit Experience, Evan Williams Experience, Four Roses Distillery, Heaven Hill Distilleries, Jim Beam Distillery, Wild Turkey Distillery, Woodford Reserve Distillery, Town Branch Distillery, and Heaven Hill. According to the Kentucky Bourbon Trail website, some of these distilleries are as close as eight miles apart and others are as far as 70 miles apart.
Bourbon's history can be traced back to the 1700s, when the first settlers of Kentucky arrived. These farmers and frontiersmen found a way to convert corn and other grains to whiskey. The name 'bourbon' was derived from Bourbon County, one of Kentucky's original counties where whiskey was shipped in oak barrels and stamped in Bourbon County before being transported to New Orleans.
You can start from any of the distilleries and collect stamps from all nine distilleries to receive a free Kentucky Bourbon Trail t-shirt. For stress-free visits try a guided tour. Kentucky Bourbon Trail recommends visitors to join a tour with Mint Julep Tours.
More information: Kentucky Bourbon Trail
4. Swope's Cars of Yesteryear Museum
About 44 miles south of Louisville is the Swope's Cars of Yesteryear Museum where you can view the 1910 Brush, 1914 Model T Ford Touring, 1914 Renault, 1924 Chrysler 70B Touring, 1937 Cadillac Fleetwood, 1970 Cobra Torino SCJ and more antique cars.
Admission is free and the museum also sells antique cars.
Information: Swope's Cars of Yesteryear Museum
5. Muhammad Ali Center
"Be great: Do Great Things!" is the tagline on the Muhammad Ali Center's website. This center is a museum dedicated to Louisville hometown 'boy', Muhammad Ali, the world famous boxing champion.
Get inspired and learn about Muhammad Ali's values, inner strength, character, and the six core principles that he embraced to become a world champion.
The center is conveniently located in the historic downtown of Louisville.
Information: Muhammad Ali Center
Other places of interest in Louisville include Louisville Zoo, Kentucky Science Center, and Frazier International History Museum.
Have you been to Louisville? What are your favorite things to do?
Photo Credit: GoToLouisville.com