Antigua Guatemala, founded by the Spanish in 1543, experienced over 200 years of fame and prosperity when it was the political, economic, cultural and religious center of Central America. This UNESCO-listed colonial city boasts of historic sites, colonial buildings, cobblestone streets and a vibrant mix of Spanish and pre-Columbian cultures.
Located only 22 miles from Guatemala City, and due to traffic, it takes over an hour to drive to Antigua. This is the first place most visitors go to when visiting Guatemala.
Here are visitors' favorite things to do:
1. Go on a walking tour
Start the tour at Parque Central, the central park in the city. At the park, you'll see the Mermaid's Fountain, a fountain inspired by Neptune Fountain in Piazza del Nettuno in Bologna, Italy. Surrounding the park are Antigua's famous landmarks – Palacio del Ayuntamiento, Palacio de las Capitanes Generales, Catedral de Santiago, and beautiful colonial houses converted into coffee shops and souvenir stores.
Most walking tours include visiting La Merced Cathedral, a 16th-century Baroque-style cathedral; colonial houses converted into hotels, Cathedral of San Francisco and the Santa Catalina Arch.
A three to four-hour walking tour will give you a glimpse into the colonial history of Antigua and the challenges the city faced during the many earthquakes and volcano eruptions.

2. Visit the chicken bus terminal
La Terminal, the central chicken bus station located behind the Municipal Market in Antigua is worth a trip for those who want to learn more about the everyday lifestyle of the local people.
What are chicken buses? These are pre-loved North American school buses that have been given a new lease of life in Guatemala. Fitted with truck engines and often custom-painted to suit the owners' taste, chicken buses are fun to look at but not comfortable to ride in.
Chicken buses run between the hours of 5 am to 7 pm in Antigua. They offer the cheapest means of transportation in Guatemala.
3. Enjoy Cerro de la Cruz
You can opt to walk up, get a cab or a tuk-tuk to The Hill of the Cross (Cerro de la Cruz). We recommend arranging private transportation to the hill if you prefer to travel in comfort.
Cerro de la Cruz provides a panoramic view of Antigua and Volcan de Agua. You can find locals jogging up the hill in the morning, and you'll find vendors selling local crafts. Get to the top before 9 am to avoid crowds.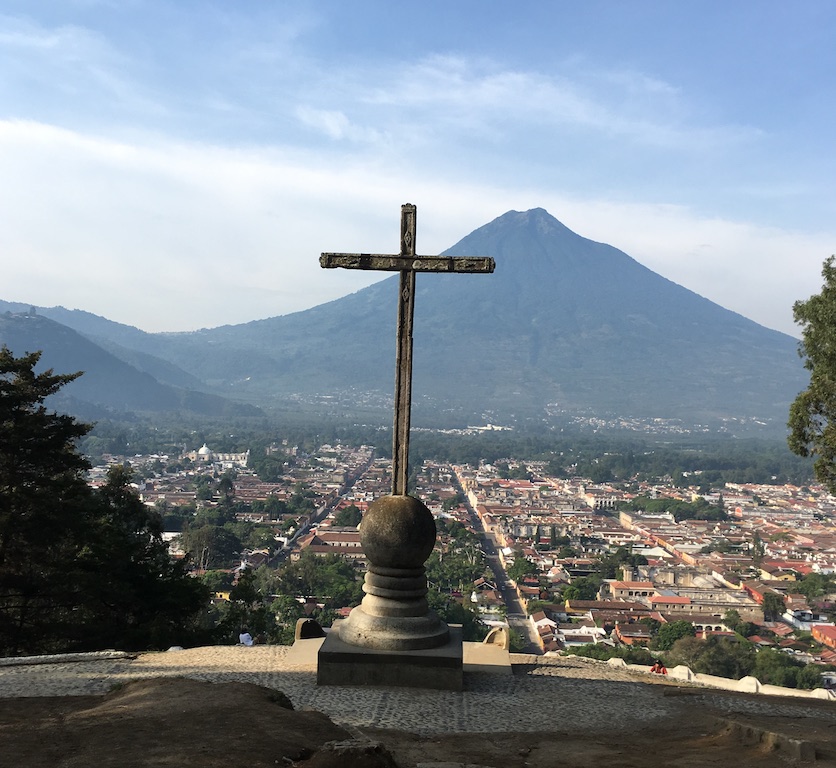 4. Join a coffee tour
Antigua is one of the regions in Guatemala that produces high-quality Arabica coffee. According to the USDA, Guatemala is expected to export 2.8 million bags of coffee in 2018.
Besides having good coffee in coffee shops throughout Antigua, you can join a coffee tour to learn more about coffee production.
We recommend a two-hour coffee tour with Filadelfia. You'll walk with a guide through the nursery and coffee plantation, wet milling and drying patio, cupping lab and a chance to taste and buy the coffee.

5. Learn Spanish
Antigua is one of the most popular destinations for learning Spanish. There are many Spanish language schools and private tutors in the city. Choose the number of hours and days you want to learn Spanish and combine your classes with tours around the city and the country. Most schools offer afternoon and weekend activities. Homestays and volunteer programs are available too.
Joining a Spanish school offers you an opportunity to fine-tune your Spanish language or pick up a few new words in Spanish.
Travel tips
1. Find hotels in Antigua.
2. Airlines serving Guatemala City's La Aurora International Airport (GUA).
3. Guatemala uses the Guatemalan Quetzal (local currency).