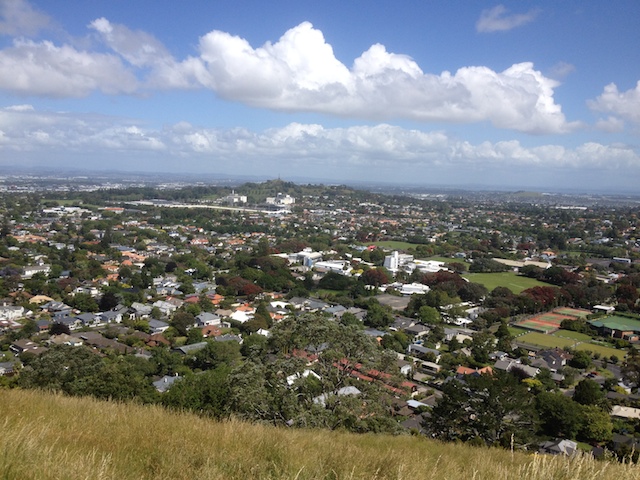 Auckland, the largest city in New Zealand sits on two coastlines and two harbors – the Waitemata and Manukau harbors. It takes three hours 11 minutes to fly from Sydney Australia to Auckland New Zealand. A flight from Sydney to Perth in western Australia takes over four hours.
Known as the city of sails, Auckland's waterfront stretches for miles with calm golden-sand beaches and wild black-sand beaches. Scenically, Auckland has to be one of the most beautiful cities in the world. One has to see to believe and seek to find the hidden gems. Some of the hidden gems include the vineyards, waterfalls, rugged coastlines, wildlife sanctuaries and hiking trails.
Here are Travelmath's 5 things to do in Auckland New Zealand:
One: Rangitoto Kayak Trip
Rangitoto Island is Auckland's iconic landmark. Rangitoto is an active volcano located in the island. The island is accessible by Fullers ferry from downtown Auckland (20-minute ride).
The most memorable way to experience the city of sails is through a kayaking trip from the mainland to Rangitoto Island. Fergs Kayaks offers two trips per day (weather permitting) at 9:30 am for a day trip and 5:30 pm (4 pm for weekends) for a night trip.
On this trip you will kayak with experienced sea kayak guides in the Hauraki Gulf crossing the harbor to the open water between Okahu Bay and Rangitoto. Your guide will watch out for boats and yachts traffic while you enjoy the scenery.
Once you arrive your adventure continues with a trail walking adventure to the peak of the island- 850 feet high. Get a 360-degree view of Auckland City, Motutapu Island, Coromandel Peninsula, Whangaporoa Peninsula, Harbour Bridge, Sky Tower and more.
For a beautiful sunset experience we recommend the night kayaking trip.
More information: Rangitoto Kayak Trip
Two: Beach and picnic
Depending on your interest there is at least one beach that caters to your need. Piha is Auckland's surf beach located in the 'wild west coast' of Auckland. This famous black sand beach is at the base of the Waitakere Ranges Regional Park.
For easy access from the city, most people choose Mission Bay beach. Mission Bay is about a 15 minute-drive from downtown along the scenic Tamaki Drive. The area is known for its bars, cafés and restaurants. We recommend grabbing fish and chips from Fish Pot Café and enjoying your day at the beach.
Mission Bay is family-friendly and offers view of Rangitoto Island and the Waitemata Harbour.
More information: Auckland Beaches
Three: The view
Auckland has many vantage points for the best views of the city and the surrounding areas.
The Sky Tower in Auckland CBD provides not just the view. Visitors can look down through the glass floor panels or try 'Sky Walk' around the circumference of the Sky Tower.
Mt. Eden is Auckland's highest natural point for a 360-degre view of the city. Either drive or walk up the volcanic cone and discover the history of Mt. Eden. It was a traditional fortified Maori village with occupation terraces, storage pits and housing sites.
Another volcanic cone to enjoy Auckland's view is One Tree Hill summit. Though the one tree is gone, the summit still attracts locals and tourists. One Tree Hill gives visitors another vantage point of the city for free. It is located in Cornwall Park with many areas to relax and have a picnic.
Inside the park is the Stardome Observatory with stargazing and planetarium shows.
More information: Stardome Observatory
Four: Tour an island
Only 35-minute ferry ride from Auckland downtown ferry terminal on Quay Street, Waiheke Island is a must visit island in Auckland. Visitors can enjoy a stroll on white sandy beaches, take a wine tasting tour, visit the art gallery, dine in style in one of the many cafés and restaurants or just relax with a book in a traditional Kiwi bach.
More information: Book a bach
Besides Waiheke and Rangitoto Islands, you can also visit Great Barrier Island, Motutapu Island, Tiritiri Matangi Island, Rotorua Island and Kawau Island. Great Barrier Island is the best place to encounter whales, turtles and manta rays. Tititiri Matangi offers open wildlife sanctuaries and Kawau Island is the place to visit Mansion House, home of New Zealand's first governor.
Take a scenic walking track, visit the World War II gun emplacements and check out the views of the Hauraki Gulf in Motutapu Island. The island is also known as Sacred Island and is a pest-free island. You have to check your bags and shoes before traveling to the island.
More information: Fullers Ferry
Five: Arts and History
Auckland War Memorial Museum is New Zealand's first museum. Inside you will find collections of Maori and Pacific islanders' stories and natural history resources, military history collections and much more.
The museum holds daily Maori cultural performances that include the famous Maori haka.
More information: Auckland Museum
Auckland travel tips:
1.  For free maps, transportation and best local attractions stop by at a local i-SITES.
2.  Auckland Airport is about 13 miles from the city center.  You can either drive or take the cab or the Airbus Express to and from the airport. The Airbus runs every 10 minutes on weekdays from 7 am to 7 pm and every 15 minutes on weekends from 6 am to 7 pm.
3.  US dollar is about NZD1.34 at the time of writing. Use Travelmath's currency converter.