With its historic castle and churches and medieval streets, Dublin, the Irish capital city has a lot to offer to both first time and repeat visitors. And if you have a passion for Guinness stout, you have another big reason to stop by Dublin before venturing to other parts of Ireland or Europe.
Wondering what you can do if you have just 24 hours in Dublin? Here are 5 things to do:
1. Explore Guinness Storehouse
Guinness Storehouse is a seven-story complex at St. James Gate Brewery dedicated to the history and making of Guinness stout, the world's most famous beer. It began with Arthur Guinness in 1759 when at age 34 he signed a 9,000-year lease on a small property at St James' Gate to brew ale.
By 1769, Guinness shipped six and a half barrels of beer to England and by 1801 to the West Indies, and in 1858 barrels of beer were shipped to the far corners of the earth including New Zealand. Today, Guinness is the most recognized beer in the world.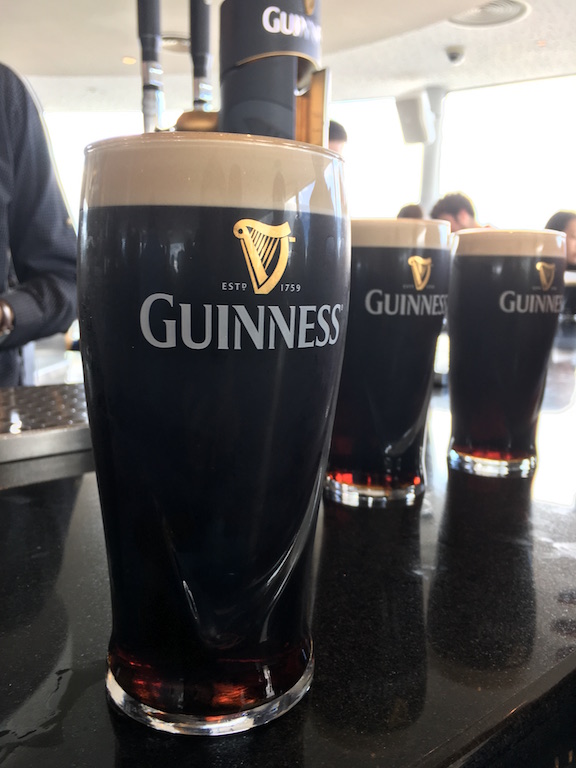 A visit to Guinness Storehouse includes the following highlights:
learning 250 years' history
the making of the beer
a unique display of the iconic Guinness advertising campaigns around the world
how casks were made over the years
how Guinness beer made its way around the world
a complimentary pint at Gravity Bar offering 360 degrees view of Dublin
You can buy tickets online or at Guinness Storehouse.
2. See the Book of Kells and visit The Long Room at Trinity College
A visit to Trinity College's Book of Kells exhibition and The Long Room, the main chamber of the Old Library at Trinity College is a must for history enthusiasts and book lovers. The Book of Kells is Ireland's cherished masterpieces from the sixth to eighth centuries.
The Book of Kells contains the four Gospels from the Bible probably produced by the Iona monks in Iona Island, Scotland. Per Trinity College's website, it is based on the Vulgate text which St Jerome completed in 384AD and written on vellum (prepared calfskin).
After the Book of Kells, we recommend taking the stairs to The Long Room which is the main chamber of the Old Library at Trinity College. The Long Room houses over 200,000 old books. There are marble busts of famous literary figures and philosophers, a 15th-century harp (the oldest in Ireland) and copies of the 1916 Proclamation of the Irish Republic. The Long Room built between 1712 and 1732 is one of the greatest old libraries in the world.
Get your admission tickets to the Book of Kells and the Long Room in advance to avoid waiting in line.
3. St Patrick's Cathedral
St. Patrick's Cathedral has over 800 years of history and is the largest cathedral in Ireland. It's one of the few magnificent medieval buildings left in Dublin and an important Irish cultural heritage. Join the daily (during school terms) Evensong from 5:30 pm to 6:15 pm, a tradition started in 1270.
4. Stroll and shop on Grafton Street
Join in the fun with Dubliners and tourists on Grafton Street, Ireland's world famous shopping and cultural street. Grafton Street is between St. Stephen's Green to Trinity College Green. Check out Bewley's Grafton Street Café (opened since 1927), Carroll's Irish Gift Store (with 12,000 Irish theme products), and Brown Thomas (lifestyle store), a landmark on Grafton Street.
5. Check out Temple Bar and grab a beer
Your 24-hour stay in Dublin would not be complete without a stop at a pub. Most tourists head over to the Temple Bar area to check out the famous Temple Bar Pub. If you prefer elsewhere, VisitDublin.com has a list of pubs including old pubs, pubs with live music and pubs where you can spot celebrities.
Travel tips to Dublin
1. You have a choice of almost 30 airlines to fly into Dublin.
2. Ireland uses the Euro. At the time of writing it is US$1 to 0.84 Euro.
3. Aer Lingus, Ireland's flagship airline, offers one of the best rates to Dublin and Europe from the US. Check it out.
Have you been to Dublin? What were your favorite things to do?